Microclinic International received funding from the Deshpande Foundation for a pilot project in Gadag-Bettgeri of NW Karnataka. We partnered with the renowned Christian Medical College Vellore (ranked the second best medical college in India), which provided medical resources, training, and local expertise to set up Microclinics in and around CSI Hospital in Gadag.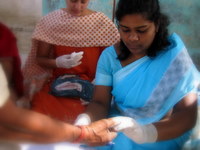 CSI treats 360 patients each day; with the average patient earning $1USD/day. The pilot project reached about 250 participants from the town of Gadag as well as surrounding rural villages. Microclinic International (MCI) worked with CSI to set up the clinics, create a culturally appropriate diabetes education program, and assist CSI Hospital with developing their first initiative in community health outreach.
The results of the project included: 1) empowering patients to manage diabetes and prevent the surge in life-threatening complications arising from untreated diabetes, and 2) building the capacity of CSI staff and community workers to sustain the Microclinics in the long-term.
More information on our Microclinic Model in India can be found on the Christian Medical College & Hospital in Vellore, India's Department of Endocrinology, Diabetes, and Metabolism website: http://www.cmcendovellore.org/gmicro.htm
MCI India Project Partners:
The Christian Medical College of Vellore, India, The Deshpande Foundation, and The Big Ideas Initiative @ the University of California, Berkeley